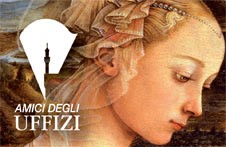 Become a member
The Association Amici degli Uffizi can be supported through different membership subscriptions:
Individual: € 60,00 (one adult)
Family: € 100,00 (two adults and two or more children under 18)
Youth: € 40,00 (from age 18 up until 25 of age included)
The membership card is numbered and strictly personal and requires personal identification; the museums staff has the right to withdraw non-conforming cards.
No duplicate card will be issued unless a loss report has been filed with local authorities. Transgressions will be prosecuted.
The membership subscription implies acceptance of the association by-laws.
THE MEMBERSHIP FEE IS NOT REFUNDABLE
Membership card validity: solar year, from January 1 to December 31st
The Annual Membership Fee can be paid:
- cash, with credit card, a/c payee cheque, postal order,
WELCOME DESK OPENING HOURS (entrance from door n.2 of the Uffizi Gallery):
Tuesday to Saturday from 10:00/17:00
Tel.: (+39) 055 285610 - (+39) 055 2646456 - email: info@amicidegliuffizi.it